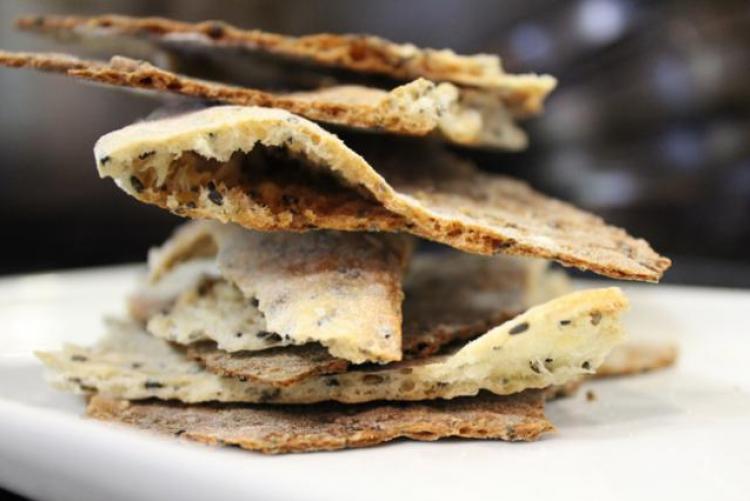 Description
This simple lavash recipe yields a full-flavor cracker that pairs well with cheese plates, pates and rillettes. It's versatile in the sense that the seeds can be mixed and matched as desired, with my favorites being a mixture of sesame, poppy and sunflower seeds. Use this like you would any other cracker, but you can take pride in the fact that it's home made. Wrapped tightly in plastic wrap and stored in a cool place (but not refrigerated), these crackers will last for 1-2 weeks before going stale.
Instructions
Dissolve yeast and honey in warm water.
Stir in flour, salt, seeds and canola oil until a loose dough is formed.
Cover dough with plastic wrap and allow to rest for 15-20 minutes before mixing. This resting period will allow for the gluten to fully hydrate before kneading.
After resting period (technically called an "autolyse"), knead dough by hand for 8-10 minutes or by machine with dough hook attachment for 4 minutes. The dough will be stiff and become somewhat smooth. It is not necessary for the dough to pass the window pane test, (meaning you are able to stretch a thin membrane with a small piece of dough), simply knead long enough for the dough to become smooth.
Place dough in an appropriate sized container, cover with plastic wrap so it doesn't dry out and proof at room temperature for about 2 hours. Alternatively, you can retard in your refrigerator for up to 2 days, removing the dough from the fridge 1-2 hours before baking.
Divide dough into half (if making a full batch), roll as thinly as possible, and place on a half sheet tray.
Poke the surface of the dough liberally with a fork to keep the it from ballooning up during the baking process, and bake at 375°F/190°C for 8-10 minutes in a convection oven, 400°F/204°C for 20 minutes in a conventional oven, or until the crackers are crispy and golden brown.
Allow to cool for at least 20 minutes before breaking apart and consuming.
Notes
I prefer the rustic shape of breaking these large crackers apart by hand. There's something appealing to me about the randomness of the breaks and the jagged edges. You can however cut the dough into circles or squares before baking to achieve your desired shape.
Further Information
This recipe was adapted from Peter Reinhart's book, The Bread Baker's Apprentice.